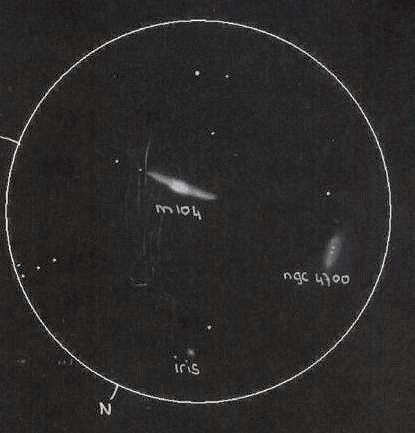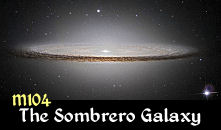 Having long ago interfaced the computer with the hobby, I've nearly forgotten what it's like to just have some simple fun so, I decided to follow Demelza's guidelines and see for myself. I've always leaned towards the artistic side of astro imagery, which never required drawing outside
in the dark
, so I was a little surprised to find Demelza's information, seemingly obvious at first, hitting home,
"I prefer to make a quick sketch outside with a regular HB pencil and make a final sketch inside the day after." - Demelza Ramakers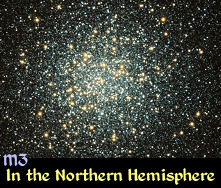 "Before you make you're sketch, mark the north and westside in the circle with N and W. The side where you see the object disappear in you're eyepiece is the west. It depends on the sort of telescope you use which side is north. In reflectors you find the north always left of the west (see picture). If you are going to sketch a galaxy, you mark the position with a line so you can use it as reference and draw the stars in the right places." - Demelza Ramakers
For a complete overview and some real great tips for sketching your astronomical observations visit Demelza's web site right here -
Sketching the DeepSky
and to see more of Demelza's sketches drop by
Over Here
Special Thanks:
Demelza Ramakers
Observing the Night Sky
Website (Netherlands)
Astronomical data provided by:
SIMBAD Astronomical Database
The SIMBAD astronomical database provides basic data, cross-identifications, bibliography and measurements for astronomical objects outside the solar system.
The Astronomy Picture of the Day website,
APOD
and Cliff's ole 25" without which I would of been stuck sketching with a pair of binoculars and a broken pencil!
Sketch: Demelza Ramakers
Location: Valkenburg, The Netherlands
Date: May 7, 2008
Time: 0:00 hour
Telescope: 8" Dobson
Magnification: 40x
Conditions: "The seeing and transparancy where both very good that night."

Type: LINER-Galaxy
Location: RA 12 39 59.43185 Dec -11 37 22.9954
Morphological type: Sa
Radial Velocity: 1197km/s [Redshift]
Photo of M104: APOD


"Sketching deepsky objects is a great addition for your observation logs. Not only [do] you observe the objects a lot better, but it's also handy and fun to use as reference or to compare. And sketching doesn't have to be difficult! There are many ways to make sketches."
- Demelza Ramakers
Sketch: Demelza Ramakers
Object: M3
Type: Globular Cluster
Location: RA 13 42 11.23 Dec +28 22 31.6
Spectral type: F7IIb
Radial Velocity: -147.1 km/s [ Blueshift ]
aka: NGC 5272
Photo of M3: APOD
My second sketch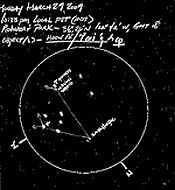 Well Demelza, my second attempt was a much cleaner and readable sketch than the first!