A Universe in Time
Images, Resources and Education in Astronomy
Obviously the front page has changed and as such this page will eventually become the goals/news page. For the time being I will continue to see this page up and running in it's present format until the bugs are worked out of the new pages. Meanwhile, here's a brief of what's happening around here at AUIT:

JUST ADDED
* * * * * * * * * *
Nov.15, 2008
This will be the last entry for updates as all other pages are going smoothly and are posting as they are completed.
I just posted a new page in the stars category (Red Giants) and the links page was updated today. Since I just finished getting over a cold I am a bit behind but will be re-writing the current pages to conform to the new .css templates and will then get back to completing the rest. Thank you all for helping test and edit this site--I'm on my own now!
Nov. 05, 2008
P.M. - links page is up and running. It's still under construction but it's up, it's running and now I have to run!
1) Decided to keep logo 2) Posted new front page as it was so near completion. 3) Currently working on links page 4) Will be keeping the "Site Goals" statement on right side - just looking for nice place to post them - I thought they were nice also Kathy :0) That's it for now folks!
Nov. 04, 2008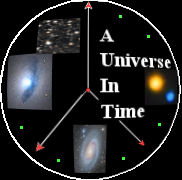 Finally started working on a logo for the site, we'll see how it hits me and others.
The days of this front page are numbered as I will soon be testing the final version of the new index page here. This front page will still be accessible via a link and will eventually revert to a news only page.
Just added White Dwarfs into the Stars section. At this point I'm going to backtrack a bit and tighten the site up a bit by working on previous page formats and post the credit links page over the next few days. Also settled on a nav plan for this site and will create a link button to view this site without frames. Mostly for users of IE which keeps up it's terrible page/web viewing attributes (as much as I love this site I don't wish to marry it! LOL)
Nov. 03, 2008
Added Contact link, just click the mailbox icon above.
Nov. 02, 2008
The 'Stars' section has begun to go up. As usual please let me know if you see any errors that need correcting. A big Thank You to rocket_man for the FYI regarding the spectral classification on brown dwarfs. Those page should go up this evening. And yes, I'll add a contact email on this page also...my bad!
Along with other branches of scientific research, composite imagery (or what I term astro-composite imagery) has really started to see some wonderfully created art that is, as far as possible, scientifically correct. These images can be seen from APOD to the NASA website and also here. Just check out Walter Myers artwork in the STARS section under BROWN DWARFS or go to his site to see the Image of Teide 1. He has created a wonderful image of how the brown dwarf star Teide 1 might look if viewed from another planet. Please note that his work is copyrighted and is used here with his permission.
Lastly, I've also have begun work on the Links & Credit sources though I hadn't intended to do so as of yet. This was due to several very nice emails received regarding the installation and use of Simbad and the Aladin Desktop Applet which I use myself.
Oct. 31, 2008
Happy Holloween all! Don't forget to check out the Astronomy Picture of the Day archive! Added Protostar to Stars section today.
Oct. 28, 2008
Finished correcting some typos and a script bug causing an unreadable .css entry not to work correctly in Mozilla/Firefox (thanks Ron!)
An attempt to fix the nice picture image cube thing at the bottom resulted in everything crashing including, I think, my car! Seriously, the exterior .js script file doesn't like a second script embedded on the same page (this is a weird IE thing) so Opera users can still enjoy while IE users will please bear with me as problem will be resolved when I switch front page format. Sorry Kathy, I gave it a shot!
Have just about finished the last of the stylesheet templates for this site and will be testing those out on the pages for the STARS category. If everything works out then I'll backtrack a bit and bring the already created pages up todate (about 1 week) and begin the finish work on this site.
Just realized that this web site hit the 50 page mark which is way beyond anything I anticipated doing here. Having said that, I'm looking forward to the next 50! Finally, this front page will change it's format appearence last, when all the rest are finished. The Latest Around AUIT will simply be a line and link info affair.
Oct. 19, 2008
At the top of this page you'll notice two menu bars. The topmost menu buttons (smaller buttons) will take you to that particular image gallery. While there just hovering your mouse over any thumbnail will display a larger image. The second menu bar (larger buttons) will open an image gallery with detailed information on each object. I'm still working a few gliches out of the pages that don't display correctly in IE6-IE8 Beta.
Check out Axel Mellinger's beautiful panoramic view of our Milkyway. His image can be found on the Galaxies page located in above menu or by clicking the Galaxies link. Please note that his work is copyrighted and used with his permission.
The nice rotating picture show cube thing below has suddenly stopped working in IE (still running under Opera) and it appears to be a scirpt conflict. I'll be working on it over the next few weeks in order to get it sorted out.
Oct. 15, 2008
Just started some trial runs on the Cosmos Art Gallery page and hopefully I'll get that page from idea's to reality (just waiting to see what hits me).
A new Blog page for posting noteworthy events from around the universe, cutting edge technology, ideas, corrections and more.
Links to astronomy database/imaging sites for the beginning, intermediate or advanced astronomer. I explain some of the finer points and/or uses of sites like NED, Simbad, Aladin, CDS, APOD, NASA-JPL and others; not just links but sites I've used over the years. You'll also find some very useful software resources for all levels of study or hobby including a growing list of observatories and online astronomy enthusiasts who have published their own websites.
Two different image layout styles to choose from: image preview only, the menu to appear on this page soon or image with object information which is at the top menu bar on this page.
Catagorized image pages by object type.
Amature/professional submission page for the displaying of personal 'best-of' pictures, techniques, study results or project shares. Credit for this project idea comes from past and recent chat/blog posting. As of now this in a "on-the-drawing-board" only idea.
Oct. 11, 2008
Compatibility testing of web site across different browser platforms. As of 11/09/2008 this site was browser-tested by users of Netscape-IE-Firefox-Opera. Several issues were resolved and a few still need attending to. Please note that this is done on a as-time-permits basis by friends across the web. As such, not all issues may be resolved.
I'm still trimming the fat off the old code while finally getting around to improving my .css & xml trans. structure format. In the meantime I'm still pursuing astronomy academically/hobby-wise, working, reading and whew! It's a full day around here to be sure. So, what that said...
Thank you for stopping in, enjoy your time here and I hope you'll find this site useful, educational and enjoyable.
Credits: APOD, PROJECT CLEA, GRAS, ALADIN, NASA-JPL, K. Pinkela
Space isn't remote at all. It's only an hour's drive away - if your car could go straight upwards. -Fred Hoyle