---
Like jigsaw puzzles?
Well, I'm not particularlly a fan myself but the hard working folks who put together the final image (seen below) must be as it is comprised of over 800,000 individual frames! It shows the galactic plain of our Milkyway as viewed from the northern and southern hemispheres. The above image is just one of the five main component images, all taken in the infrared spectrum, that were themselves "stiched" together.

Click Below for full size image - 1500x1125
In the below image, you can see all five component frames with the large circle seen in the middle section of the image being a magnifying glass giving a closeup view of one piece of this mosaic picture.



Below is a closer view showing a single frame-tile. The Green area was originally a blank spot to which was added the green in order to better illustrate the realitive size of a single frame. The dimensional lines were also added.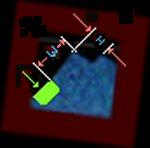 To find out more about this remarkable image Click here But note: I downloaded the single complete image file which turned out to have a pixel resolution of 14,400 x 10,800! Next, I opened the file in an image editing and viewing program and while I waited for that I had lunch! Afterwards, I reduced the image to something more managable, zoomed in on the section seen in image number two above and went to work.

Return to the Galaxy Page