The University of New Mexico's Department of Physics & Astronomy
Virtual Lab 101L — Page Two
"If we could get everything from books, we wouldn't need any teachers."

"Oh, but we would my friend. Where is the human element in your reasoning? It requires a good teacher to breathe life into the words of a book. Breath and life that could never be drawn from the written pages of the book alone. Read a good book yourself, and then ask a good storyteller to read the same book to you. A world of difference...I do agree with you that a book is a great source of knowledge, but without a good teacher it is like a meal without condiments."
— Wordsmith from Essen, Germany, from an online blog thread of 2009
A little about the University of New Mexico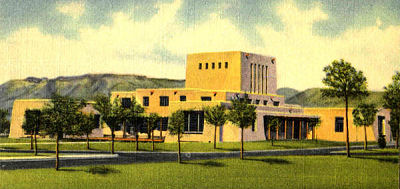 Sitting comfortably in the heart of Albuquerque, just off old Route 66 is the University of New Mexico. Founded in 1889, the university is noted for its enduring tribute to the Pueblo Indian culture as a result of its purposeful architectural style which many have discovered, gives the campus its distinctive "Southwestern feel". The university has consistenly received excellent reviews and high rankings in academics, various sports and associated campus activities as well as social, community support and outreach. Seen at
left
is a painting of the University of New Mexico's library in 1938 from the
Special Collections Library
, City of Albuquerque's official website. [6]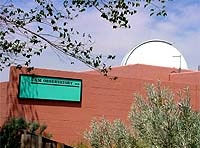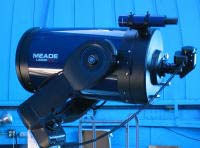 At
left and right
are images of the
Campus Observatory
at UNM and its telescope. The instrument is a Meade 14" LX200GPS acquired in 2004. The facility is open to the public as well as UNM students free of charge. Images courtesy UNM Physics and Astronomy Department Web Site and
Yahoo Travel
.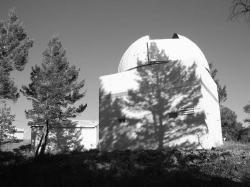 UNM also operates the observatory at Capilla Peak, "...a research facility owned and operated by the Institute for Astrophysics at the University of New Mexico. Our 61cm (24") Boller & Chivens Cassegrain is available for use primarily by the staff, students and faculty at UNM. Although the observatory is now rarely available to non-UNM research groups, proposals for collaboration with Physics and Astronomy Department faculty are welcome."
Capilla Peak Observatory
and the
Institute for Astrophysics
. Image
right
from
Wikipedia
.
Here's a link for those who wish more information about the
University of New Mexico
Ouestions & Answers
From Teaching Lab Supervisior William Miller, August 29th, 2009
Q: Is it correct that the Astronomy 101L lab was created in 2001?
A: The HTML version of Astronomy 101L was started around 1995. Dr. Neb Duric and a dedicated troupe of grad students transcribed and enhanced existing paper labs to the web. 2001 was about the time it acquired its present "look". It is of course evolving day to day.


Q: Is Astronomy 101L a college level entry course? What are the general requirements, if any, for the program (academic level, required coursework, prerequisites)
A: Yes this is an entry level class. A student should either be taking the lecture section of A101 or have taken it for credit in the past. If they can answer basic questions about the universe I will sometimes override the requirements.


Q: What is the goal behind its developement? For example, public outreach, an extension of class work or study, part of online coursework or part of a distant learning program at UNM.
A: Initially it was designed to take the place of an existing traditional face-to-face lab. Astronomy labs are more difficult to create than are physics labs because of the tools and instruments required as well as most classes are scheduled for daylight hours. After a stable version of the classroom lab was in place I decided to take it online for our Extended University program. New Media and Extended Learning (NMEL) at UNM did a great deal of work on the code to make it much more cross platform compatible and faster to load for our online version. While the content is similar the code is very different.


Q: The project lab seems accessible to the general public in most respects excepting the lab tests. Are the tests strictly for student enrollment?
A: Yes


Q: I noticed that UNM's virtual lab also makes use of other small applets or java programs to demonstrate various astronomical principles. Are these created by yourself? Students?
A: Most of these were in the public domain, created by others funded by NSF [National Science Foundation] grants and other non-private groups. Cepheids and the virtual telescope are ours. The telescope is modeled after our Capilla Peak Observatory in the Manzano Mountains.


Q: Are there any future plans for expanding the virtual lab concept within the curriculum of UNM's Department of Physics and Astronomy?
A: While many departments, including science and engineering, at UNM offer online classes virtual labs have not been embraced by Physics and Astronomy. Even lecture courses have shied away from online instruction.


Q: Can you tell me a little about your position at UNM and your involvement within this project?
A: My current title is "Teaching Lab Supervisor" I started out here 23 years ago supporting the senior physics lab. My electronics experience came to be known so the department decided to open an Electronics Workshop where I designed and built instruments for our experimentalists as well as teaching labs. This was very similar to a position I held at the University of Cape Coast in the 1970s while in the Peace Corps. After about 10 years I became involved with physics teaching labs full time. During this time the Astro 101L was created and my only connection was one of acquiring and maintaining the work stations and servers for the web page. Dr. Neb Duric left UNM for Wayne State around 2002 and somehow this all became my responsibility without a word being said. During this time I also worked on various research projects. HiRAB at LANL, LodeStar Astronomy Center in NM and the Pierre Auger Cosmic Ray Telescope in Argentina. This semester I am teaching Physics 102, the online Astro 101L a seminar and taking care of numerous other labs.


Q: What has the overall response to UNM's Astronomy Lab 101L been?
A: Some students love the computer format, others hate it. Judging from the end of year surveys I would say most are OK with it. The online version is the same, however many students are not disciplined enough to thrive in the online community.


Q: As a learning tool, what would you like to see offered in the future regarding this or any other lab programs offered on the internet?
A: There is no substitute for hands on activities in the physics labs. I have seen several virtual physics labs were students can control equipment remotely and while that has some educational benefit I feel they need to be in the lab with an instructor watching them. So a hybrid version is acceptable. The role of the computer in astronomy is vital as it is the link to all of the tremendous instruments at our disposal. Simulations can approach the real thing. The ability to present images and show students the beauty of the universe is key to them enjoying the experience. Future astronomy labs need to be as interactive as possible.


Q: Are there other online programs of this nature that you find useful or recommend to the student or general user?
A: There are so many free virtual sky programs that I have lost track of them. I mention to the students thay should download at least one of them and play around with it. The world is at their finger tips. With a few key strokes anyone can explore the universe and began to understand how it works. I encourage them to use the web in class to cross check their work. Thanks to the great search engines now it's even easy for me to check when they have "over used" this function.
Another Example From Astronomy 101L
Astronomy 101L - Conclusion
Author's Endnote
Bibliography
---
©
Legal Copyright Notice
:
Unless otherwise stated, all images, screen shots, lab materials including instructional, software, scripts and web pages referred to herein are copyrighted © by
The University of New Mexico Department of Physics & Astronomy
and
Gillingham Studios of Albuquerque New Mexico
— All rights reserved. None of the content herein may not be reproduced or copied in any manner from this website without the prior written permission of above indicated copyright holder(s). All images and orginal works of the author(s) used within the above or foregoing web pages are for the sole purpose of information and display at
A Universe in Time
website and have been used with the kind permission of the respective owner(s).
BACK TO THE TOP
---