Out of this Universe
AUIT's Monthly Astronomical Publication


Images of Science and Art
Talk of
Impressionism
and the name Monet or Renoir immediately top the list;
Realism
brings to mind Gustave Courbet's painting
Bonjour
; and
Surrealism
, well, only images from Salvador Dali will do. Having grown up with a small amount of artistic ability and the enjoyment such a pursuit brings, these names were comfortably familiar to me. When I began my education in astronomy 15 years ago, I was uninitiated regarding the world of Space Art and those who render it. Today, the term
Space Art
brings to my mind many of the more recent images and creators of this form. I've discovered that, unlike most other genres, space art has not been the sole province of one or two individuals influencing its style and form, but developed through the collaboration of many academic and professional institutions of science; a natural occurance perhaps, as it was they who at first had the "knowing and science of such things". Perhaps it is because I am a newer enthusiast to the genre. Be that as it may, today, when one speaks on the history of
Space Art
, the name Chesley Bonestell tops the list as the father of modern space art.
Chesley Bonestell (1888—1986)
"That was possible because Bonestell had traveled out into space ahead of everyone else—and he took his paintbrush with him. He orbited the Earth before Gagarin and Glenn, left his footprints on the dusty lunar surface before Neil Armstrong, viewed a Martian sunset before the Viking probes landed there, and explored Jupiter, Saturn, Uranus, and Neptune before the Voyagers ever visited those giant, gaseous planets." — A Chesley Bonestell Space Art Chronology Melvin H. Schuetz, 1999 [15]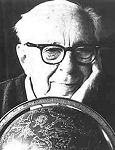 When Trouvelot and Rudaux created their images, they did so with an eye on the technical aspect of their subject; that is, their work was created for scientific purposes as opposed to artistic offerings, though both were accomplished artisans in their own right. Others, like Butler, developed their own style by combining the realism of the subject matter to an artistic
what if
, thereby stirring one's imagination with images like that of the Earth as it would appear to someone standing on our Moon, a painting rendered by Butler and displayed for years at the the old Hayden Planetarium. As for Chesley Bonestell, his work went much further then just a fusion of art and science. His images were a deliberate merging of technical elements, artistic style and a successful collaboration that carried within it a clearly rendered
visionary element
— the possibility of space travel. Though Schneeman, and others before him had successfully achieved an incorporation of known scientific knowledge into their own art, Bonestell was able to take it many steps further, thereby creating visually stunning images
and
a conceptual awareness for the proposition of manned space travel, inspiring the very individuals who would make journeying into outer space and beyond possible. Image of Chesley Bonestell courtesy
NASA
Bonestell was born in 1888, in the city of San Francisco, California. Like many others before and after him, his interest in astronomy was aroused not from the academic field but from hands-on experience, viewing the moon and the planet Saturn in 1905 through the 12-inch telescope at the
Lick Observatory
in San Jose California. Inspired and excited, Bonestell created his first painting of what he had viewed through the observatory's telescope, a rendering which was unfortunately destroyed the following year in the large fire that resulted from the earthquake which rocked San Francisco and other cities in 1906.
Though Bonestell's astronomical pursuits began early on, it would be his artistic and drawing abilities that would start his long career. He began his higher educational studies in architecture, at
Columbia University
in New York City, a discipline that he actually enjoyed, applying himself to the extent that he bacame a master at the art of perspective drawing. After three of years of study, Bonestell chose to leave the university without graduating, eventually returning to San Francisco where, finding himself well qualified, he obtained work as a designer for the well known architect
Willis Polk
. By 1916, Bonestell had moved on to other projects, obtaining a position as designer in collaboration with California landscape architecture
Mark Daniels
, lending his talents in the creation of the world-renowned 17-mile drive in Pebble Beach, California. It was during this period that his interests again turned towards the science of astronomy, applying his artistic talents in a variety of images depicting the surface of the Moon and the planet Mars.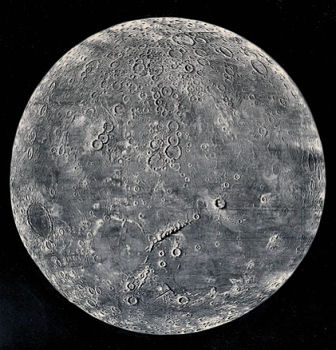 In 1920 Bonestell, having divorced his first wife Mary Hilton, moved back to New York where he once again took up work for various architectural firms. It was during this period that Bonestell met the 5-foot 3-inch tall world famous lady tenor from Bristol,
Ruby Helder
, deciding shortly thereafter to move to England with her where the two were married at the St Marylebone Register Office on July 12, 1920. While in England, Bonestell was employed by the
Illustrated London News
in the field which he had so far been successful, architectural illustrations. It was during his time in England that Bonestell came into contact with the work of two early illustrators of space art, Scriven Bolton and the previously mention Lucien Rudaux. Bolton, an artist also working for the Illustrated London News, had used a unique technique for his illustrations developed earlier by James Nasmyth and James Carpenter for their book
The Moon
[fn1] which involved the use of plaster models to represent a planetary surface, a correct lighting arrangment and a black backdrop, complete with stars. Bonestell would later use a similar method when working on various film projects in Hollywood. At right is an image entitled
Picture Map of the Moon
from the 1885 publication
The moon
by James Nasmyth and James Carpenter. [16]
After visting Italy in 1925 the Bonestells returned to England but decided to return to New York in 1927 as a result of the employment opportunities afforded Bonestell fom the sudden growth in hi-rise building construction. There, Bonestell was again employed as a designer with several well known architectural firms but the sudden demise of the stock market in 1929 saw his return to the San Francisco area where he was employed creating illustrations depicting the various phases of construction on the Golden Gate Bridge.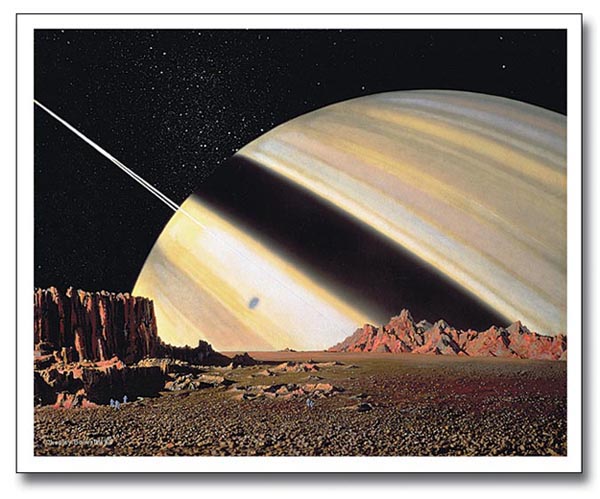 In 1938 Chelsey Bonestell changed careers, seeking and gaining employment as a matte artist in Hollywood for production studios RKO, MGM, Fox, Columbia, Paramount and Warner Brothers, his work appearing in such movies as
The Hunchback of Notre Dame
,
Citizen Kane
,
Destination Moon
as well as many others. At the start of his studio work his wife Ruby died and in 1940 he remarried his first wife, Mary Hilton. Continuing his work in Hollywood, Bonestell began to accquire an increased knowledge regarding the rendering of objects as they would be viewed from changing angles, such as one would see if in actual flight. With this aspect added to his artistic abilities, Bonestell painted a series of images of Saturn as it would be viewed from five of its moons and submitted them to
Life
magazine, who bought and published his paintings in their May, 1944 issue. The images not only amazed the professionals and public at large they also ushered in a new era of space art, their style and content a new approach to the visulization of astronomical science. Shown at
left
is one of the several influential and powerful vistas painted by Bonestell, a view of Saturn as Seen from Mimas, and published in
Life Magazine
in 1944.
Painting Courtesy Novaspace Galleries
With the surrender of the Axis in 1945, World War Two came to a close, but in its wake it left a legacy of change: the atomic bomb, jet fighters, the United Nations, the Berlin Wall, the reshaping of Europe, television, baby boomers and the computer. It also brought an impetus for developement into a new age of technology that was soon to turn into a contest between two of the era's most powerful nations; a contest began in fear and enmity, developed out of the political agenda of the times to become one of the most strived for national goals ever — the "Age of Rockets" and the "Race for Space" had arrived.
---
Footnote
1. Notes
David A. Hardy
in his article
THE HISTORY OF ASTRONOMICAL ART AND THE IAAA
(The Electronic Astrobiology Newsletter Volume 6, Number 31, 1 October 1999) "In 1874 a book was published in England entitled simply The Moon, by James Nasmyth and James Carpenter. Nasmyth created accurate plaster models of the Moon's surface, lit them correctly and photographed them against a starry, black background as illustrations. These are probably the first examples of true space art."