Page 2
§ Contents

---
You Should Know — Neutron Star Terminology & Information
In This Section You Should Know — Definitions from the Astronomical Science of Neutron Stars
Neutron Stars — Formation
Imploding Star & Exploding Supernova — The Stellar Object, Pre and Post-Formation
Supernova, Nebula, Pulsar & Neutron Star
The Crab Nebula & Supernova — The Crab Pulsar & Neutron Star
Strange & Exotic Neutron Stars
Centaurus X-3 & XTE J1739-285 — Photon Bubbles & Fastest Neutron
The Planet, White Dwarf and Neutron Star - The Three Amigos
Oldest Known Planet Identified in M4 — Resident of an Unlikely, Rough Neighborhood
Isolated Neutron Star
A Speeding Loner on the Stellar Highway — Catching RX J185635-3754
In The End
The Extreme Neutron Star — Necessary Fundamental Building Blocks
Bibliography
Additional Resources
Subsequent chapters for neutron Stars under construction
Gravitational Waves, Neutron in EXO 0748-676, Tumbling Neutrons and Quark Stars
---
4. Strange & Exotic Neutron Stars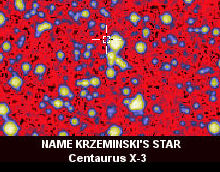 Krzeminski's Star & Centaurus X-3 — A Binary Pulsar with photon Bubbles
"Discovery of Kilohertz Fluctuations in Centaurus X-3: Evidence for Photon Bubble Oscillations (PBO) and Turbulence in a High-Mass X-Ray Binary Pulsar" The Astrophysical Journal, Volume 530, Issue 2, pp. 875-889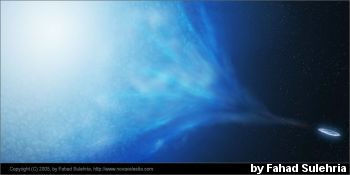 "[A]strophysicists today described their discovery of the fastest known X-ray emissions of any collapsed star in the universe." Discovery of kHz QPO from Cen X-3 Krzeminski's Star is a slightly evolved blue supergiant with a mass of 20.5 X

, a radius of 11.8 solar radii and a listed spectral type of O6.5II. It is estimate to be at a distance of 26,000-30,000 light years and have a visual mgnitude of 14.4 with an orbital period for Krzeminski's Star and J112115.2-603724 of 2.09 days, it being the visible component of the occulting spectroscopic binary system that forms the X-ray pulsar called Cen X-3. See: Krzeminski's Star Image credits: Top left Aladin desktop applet v5.018 and left by Fahad Sulehria, Nova Celestia Cick here for a list of pulsars in binary systems compiled by Wm. Robert Johnston. [13]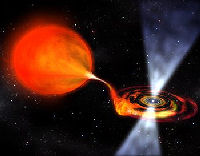 XTE J1739-285 — Fastest Spinner
"Astronomers using ESA's gamma-ray observatory, Integral, have detected what appears to be the fastest spinning neutron star yet." Integral points to the fastest spinning neutron star PRESS RELEASE, Date Released: Friday, February 16, 2007. Source and Image Credits: European Space Agency & NASA/Dana Berry

"This neutron star shows X-ray bursts and rotates with 1122 revolutions per second. This is the speed record for rotation. It is accelerated by gas falling in from a near partner star. Possibly it isn't even made of neutrons, but of free, extremely dense quarks." XTE J1739-285 from the German website Astronomie: Die Sterne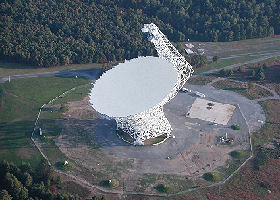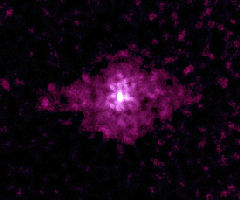 Pulsar J0205+6449 — Youngest
Take a set of pointing coordinates, feed them into a radio telescope and resolve the resulting image into the one at right and voila! Pulsar J020+6449 in the Supernovva Remnant 3C58. "Astronomers using the National Science Foundation's (NSF) newly commissioned Robert C. Byrd Green Bank Telescope (GBT) have detected remarkably faint radio signals from an 820 year-old pulsar, making it the youngest radio-emitting pulsar known." Source & image credits: From the German website of H. Heintzmann, Home Page. Image of the GBT from National Radio Astronomy Observatory, Green Bank Telescope
Photon Bubble Oscillations
Photon what? A more recent theoretical developement of binary neutron / pulsar research has to do with what is going on at the poles of the star as it
accretes
matter from it's companion star. Specifically "...researchers proposed some 10 years ago that when the neutron star is part of a binary system, the matter sucked onto the neutron star from the companion creates an unusual field of radiation bubbles that dance around the polar regions. When these bubbles burst, they produce a shower of X-rays that should be detectable by an X-ray telescope above the Earth's surface." [14] The team — in a rare example where both the seminal observations and new supporting theory have been carried out by the same people — conducting research into these "bubbles" decided that the 30,000 light years distance, 4.8 second spinning X-ray pulsar Centaurus X-3 would be the best canidate for their discovery and they were right: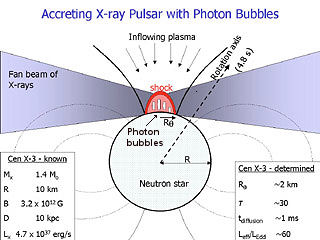 "This search resulted in discovery of two distinct quasi-periodic oscillation frequencies at about three thousandths and onethousandth of a second in the emergent radiation from Centaurus X-3, as well as the presence of a broad spectrum that extends to yet higher frequencies than have been found in any known collapsed object."

"The quasi-periodic oscillation frequencies and the properties of the broad spectrum they discovered matched predictions of their theory for photon bubbles in Centaurus X-3, providing the strongest support yet for the existence of photon bubbles in X-ray pulsars." [15] The image at left illustrates the theory of "Photon Bubble" formation at the magnetic poles of a neutron star. For a complete review see Discovery of kHz QPO from Cen X-3 from Sonoma State University website.
INTEGRAL Finds a 1122 revolutions per second Neutron Dynamo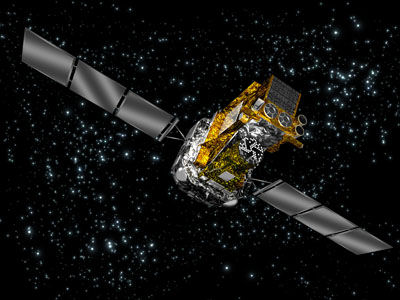 On October 17 of 2002 the INTEGRAL satellite ( INTErnational Gamma-Ray Astrophysics Laboratory ) was launched into high orbit from Baikonour in Kazakhstan, Russia. Its elliptical orbit is between 10,000 to 153,000 kilometers, half of the distance to the Moon, in order to keep it above Earth's radiation belts. The satellite was developed by the Italian Space Agency ( Italy's Alenia Spazio ) and constructed by the European Space Agency ( ESA ) with support from nearly 30 European companies and scientists from Poland, the Czech Republic, Russia and the USA. [16] INTEGRAL's continuing missions ( currently in extended operation till December 2012 ) are the detailed study of the many mysterious high energy objects called Gamma Rays and in this capacity it is the most sensitive gamma-ray observatory ever launched. Image: An artist's impression of ESA's orbiting gamma-ray observatory Integral from the ESA website [17]

"Integral, in collaboration with NASA's Rossi X-ray Timing Explorer (RXTE), has detected what appears to be the fastest spinning neutron star yet. The neutron star XTE J1739-285 was discovered during one of its active phases on 19 October 1999 by RXTE. While Integral was routinely monitoring the bulge of the Galaxy, XTE J1739-285 recently started to come back to life and Integral discovered the first short bursts of X-rays from the object. During the brightest burst, oscillations were taking place at a frequency of 1122 Hz, the highest spin frequency ever recorded. The exact breakup speed depends on the internal conditions of a neutron star, which are not precisely known. The 1122 Hz detection places a serious constraint on neutron star models." [18]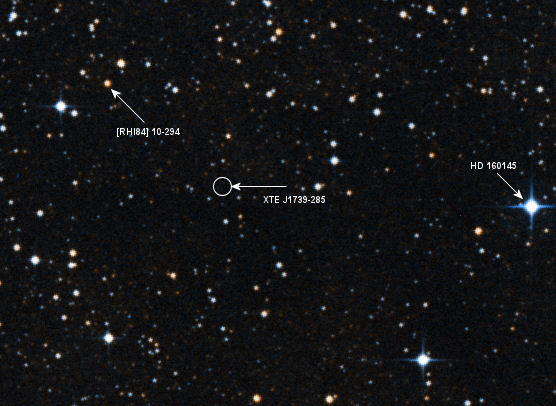 An Object query on star XTE J1739-285 at the Simbad website returned the following basic information: [KRL2007b] 258 Low Mass X-ray Binary. The [KRL2007b] 258 is the INTEGRAL/IBIS All-Sky Survey in Hard X-rays nomenclature or other designator for XTE J1739-285. The catalog's information is presented based on the standard description for astronomical catalogues which in this case, is for the survey information pre and post, conducted with the INTEGRAL satellite. "We present results of an all-sky hard X-ray survey based on almost four years of observations with the IBIS telescope onboard the INTEGRAL observatory.&quot Which is the Abstract description given by the authors for their catalog.

The image at left shows ( circle & arrow ) where XTE J1739-285 is located ( not visible in this image ) in reference to it's stellar surroundings, RA 17 39 53.95 Dec -28 29 46.8. The image is from the Aladin previewer and is in RGB composition format — Red: SERC/SR/MAMA, Green:(average), Blue: SERC/J/MAMA meaning that this image was created with photographic plates obtained at the ESO/SERC for the southern region and digitized at the MAMA facility at the Centre d'Analyse des Images (CAI), Observatoire de Paris. [19]
5. The Planet, White Dwarf and Neutron Star - The Three Amigos
6. Isolated Neutron Star
§ Bibliography
Additional Resources