§ Stars

---
Page 2
"We had the sky up there, all speckled with stars, and we used to lay on our backs and look up at them, and discuss about whether they was made or only just happened. Jim he allowed they was made, but I allowed they happened; I judged it would have took too long to make so many. Jim said the moon could a laid them; well, that looked kind of reasonable, so I didn't say nothing against it, because I've seen a frog lay most as many, so of course it could be done." - from the
Adventures of Huckleberry Finn, Mark Twain
§ Contents

---
---
5. History of the H-R Diagram...continued
"Sharp-witted and animated by nervous energy, he became one of the most powerful voices in twentieth-century American astronomy, wielding that influence in calculated ways to redefine an entire science. He, more than any American of his generation, worked to turn an observation-centered discipline into a theory-driven pursuit centered on physics." —
Princeton University Press, 2009
Henry Norris Russell
Dean of American Astronomers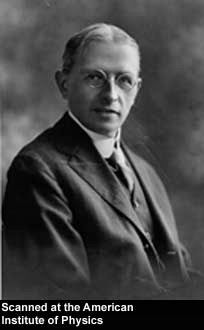 Born in Oyster Bay, New York, Henry Norris Russell began his academic studies in astronomy at Princeton University where he obtained his B.A. in 1897 and his doctorate degree in 1899 while working under the contemporary astronomer
Charles A. Young
who had encouraged Russell to think of the universe in evolutionary terms, to view it as a developing and continuing cycle of stellar life and death, looking further ahead, beyond any single cause for it's existence. In 1902, Russell travelled to Cambridge, England to study and from 1903 to 1905, worked at the
Cambridge Observatory
with Arthur Robert Hinks ( senior assistant there from 1903-1913 ) as a research assistant of the Carnegie Institution, coming under the influence of
Sir George Darwin
( image right ) whose ideas and work had been at the heart of Young's eariler encouragment of Russell. fn1
Returning to Princeton in 1905, he was appointed an instructor in astronomy by Woodrow Wilson and in November of 1908 he married Lucy May Cole whom had four children. Their youngest child, daughter Margaret, eventually married the astronomer
Frank K. Edmondson
in the 1930's. Meanwhile, Russell was appointed as an assistant professor in 1908, attained a full professorship in 1911 and was appointed as a research professor in 1927, a position he maintained till 1947. He was also the director of the
Princeton University Observatory
from 1912 to 1947. Called the "Dean of American Astronomers" by many and known also as the "General" by colleagues Henry Norris Russell died in Princeton, New Jersey in 1957 at the age of 79. Image of Henry Norris Russell courtesy of the
AIP Emilio Segre Visual Archives, W. F. Meggers Collection
[14]
Prior to Hertzsprung and Russell, there existed a previous method of stellar classification called the "Secchi classes" (
Secchi, 1863—67
) which was a method that grouped stellar spectra into four classes, depending on the absorption lines seen. However, this was superseded by the Harvard classification scheme in the late 1890s, and later improved upon by the H-R diagram in 1911-13 and the Yerkes spectral classification of 1943. Since that time, the only major revision to these diagrams were an extended spectral listing for newly discovered types of stars, a result of 20th century technological advancements. [15]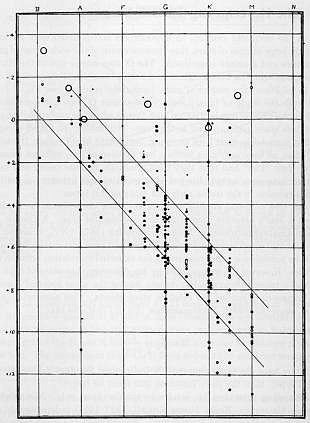 During the same period that Hertzprung was developing his chart, Henry Russell, working at Princeton University with a large amount of star data, independently come to the same conclusion as Hertzsprung and in 1913 published his own star spectra & magnitude diagram. On Russell's chart, shown at right, he listed the spectral types along the top and the absolute magnitudes on the left-hand side and what he found was that in a diagram of a stars' luminosity versus it's temperature, you get a nearly straight line, with the most luminous stars being the hottest and the least luminous, the coolest; the area on the chart where the largest group of stars fell along this line is called the main sequence. The development of the H—R diagram became a very powerful tool for astronomers as the grouping of a universe worth of stars into a managable scheme of classification was all but impossible due to sheer weight of numbers alone.
This was all fine and well, but as more and more groups of stars were placed on the chart, something else developed which was also inherent to the use of the H-R diagram. A small percentage of the stars in the chart began falling outside the main sequence. These were the stars that, as a result of the nature of their stellar evoluntion, were both very luminous yet much cooler, called Red Giants, like the star
Betelgeuse
, or those that conversely, proved to be really hot yet very dim, called White Dwarfs, like the star
IK Pegasi B
. These exceptions, like the white dwarf types, led astronomers over the years to develope general theories and conclusions, especially regarding the universe and it's age. Using an analogy,
Terry D. Oswalt
, professor of physics and space sciences at the
Florida Institute of Technology
noted:
"Think of a cup of coffee. When first poured, it is very hot, but as time goes on the temperature falls. If you know how fast a cup of coffee cools, you can measure its present temperature and determine how long it has been since it was poured. The color of a White Dwarf is easy to measure, and it directly tells us its temperature. The redder it is, the cooler it is--therefore the older it is."
"Curiously, we find no White Dwarfs cooler than about 4,000 Kelvins. It takes a White Dwarf about 10 billion years to cool to this temperature. So we conclude that even the first generation of stars in our galaxy, whose remnants are now White Dwarfs, have not had a chance to cool below 4,000 Kelvins. By that reckoning, the galaxy, and hence the whole universe, must be at least 10 billion years old." [16]
Eduacation and the H—R Diagram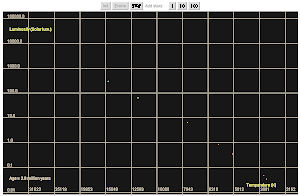 Since it's always helpful to get some hands on practice, try clicking on the image at left. This link opens in a separate window at the University of British Columbia where they have created an HR Diagram Simulator which allows you to place 1, 10 or 100 stars on the main sequence, allowing you to compare their evolution off the main sequence either in steps or as a movie. You will also find below, three more sites with simulators demostrating the use of the H-R Diagram. All are interactive and teach a diffrerent aspect of star plotting, the results which vary according to each simulator's goal. The simulator at the University of New Mexico is extremely well done, both visually and educationally, and is part of a larger lab program.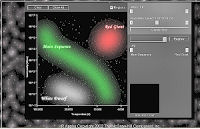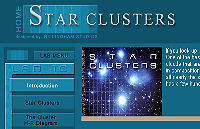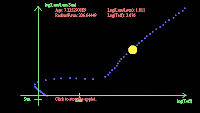 From left to right are 1)
Stellar Evolution and the H-R- Diagram
— from The McGraw-Hill Companies, Inc., 2)
Astronomy Lab 101L
, an education lab series applet from the University of New Mexico's Department of Physics & Astronomy and 3)
University of Durham, United Kingdom
, an applet that visualizes a star's life cycle by following the evolution of the star's Age, Luminosity, Radius and Effective Temperature using a single plotting track.
6. Evolution within an Evolving Universe
7. Spectral Classification of Stars