---
In This Section
You should know
◊◊ Jupiter Mass - a unit of mass equal to one Jupiter (1.8986 x 1027 kg, 317.83 Earth mass; 1 Earth mass equals 0.00315 Jupiter masses). Jupiter mass is used to describe masses of the gas giants, such as the outer planets and extrasolar planets. The symbol for Jupiter mass is MJ.
◊◊ Degeneracy Pressure - the pressure created in a dense gas by the interaction of its electrons; degeneracy pressure does not depend on temperature and thus, pressure doesn't decrease as a star cools.
◊◊ T Dwarf Class
also known as a methane brown dwarf, these are amonst the coldest stars known (temperatures lower than 1473-degrees k. or 2192-degrees f.), their spectra exhibiting methane absorption bands. Also see M dwarfs, L dwarfs and T dwarfs Page at the Space Telescope Science Institute. Image: ESA/NASA/HUBBLE/MACHO team.
◊◊ Hunting the Brown Dwarf took decades; they were the "missing link" of celestial bodies, thought to exist but never observed. In 1963 University of Virginia astronomer Shiv Kumar theorized that the same process of gravitational contraction that creates stars from vast clouds of gas and dust would also frequently produce smaller objects. See the April 2000 Scientific American article (pdf) THE DISCOVERY OF Brown Dwarfs By Gibor Basri
---
The Brown Dwarf
The Stellar Missing Link - A Failed Star
Based upon our definition of what comprises a star, Brown Dwarfs don't quite make the grade; they never achieve the high core temperature required to begin the nuclear process of hydrogen burning and as a result, they produce little of the light and heat of normal stars (though differences between the highest mass Brown Dwarfs and the lowest mass stars are subtle). This has also made the Brown Dwarf an extremely difficult star to locate, their discovery coming only after a twenty-year long oddessy which saw more than it's fair share of ups and downs while employing various survey methods and technologies.
BLACK DWARF? BROWN DWARF? RED DWARF?

When first theorized in the 1960's, Brown Dwarfs were originally called Infrared Stars or Black Dwarfs; the latter name was already being used to describe a hypothetical stellar remnant, created when a white dwarf becomes sufficiently cool to no longer emit significant heat or light. The former has become a more generic name or survey type and indicates that the star is very cool or is embedded in a very dust-rich environment. Since neither had, at that time, been discovered one color seemed as good as another so no problems. Then, in 1975 (when the objects were still only theoretical), Dr. Jill Tater (current director of the Center for SETI) coined the name "Brown Dwarf" when referring to these objects explaining,

"it was obvious that we needed a color to describe these dwarfs that was between red and black. I proposed brown and Joe (Silk) objected that brown was not a color."

So, brown really isn't a color? Well, for the painter, the artist or even you and I, brown is certainly a color but for the astronomer, brown isn't one of the colors (or wavelengths) on the spectral chart - ROY G BIV. In other words, these stars do not emit photons of brown light. But no matter, the name stuck and is descriptive enough for this star considering it's dark, cool character.

Of course this obviously begs the question, "just what color are Brown Dwarfs then?" The stars are...well, here's an image representing the color,




The Not-Really-Brown-But-Orange-Reddish-Very Cool-Infrared-Convection Dwarf Star?

At least a star is a star -- Right?

"Brown Dwarfs are the ill-defined middle ground between planets and stars. A star is a star because it shines on its own, generating light through thermonuclear reactions in which hydrogen is converted to helium. Brown Dwarfs, though they can burn deuterium in another type of reaction called "core fusion," fall short of full-blown stellar thermonuclear fusion."

"But Brown Dwarfs can, like stars, be born out of an otherwise unorganized cloud of gas and dust, when gravity forces a direct collapse of the cloud." From Space.com

SOURCES: Internet Encyclopedia of Science Ray Villard, Discovery Space The Life Cycle of a Star website
As for the physics, it's a simple matter of mass: Brown Dwarf stars simply do not have the mass to begin the stable fusion of hydrogen, a requirement in order to be considered a true "star", and are thought to exist at mass levels below the required minimum to do so - 75 jupiters (while the lower limit seems to be 13 jupiters). While Brown Dwarfs do have enough mass to burn deuterium, the mechcanism that keeps these types of stars from simply collasping is another source of pressure - the degeneracy pressure on electrons - which accounts for the star's ability to remain stable and above gas giant status, like Saturn and Jupiter, in the absence of thermonuclear fusion (though Brown Dwarfs are never totally degenerate).
See the article Brown Dwarfs at The Astrophysics Spectator for an overview regarding the physics of Brown Dwarfs and the Home page of this same site for an explanation of Degeneracy Pressure.

Also see the excellent Brown Dwarfs within 10 parsecs at the Sol Station website.

At the top of current scientific research and survey activity is the Wide-field Infrared Survey Explorer (WISE) due to launch in November 2009 and the All-sky surveys planned for the next decade using the Large Synoptic Survey Telescope. For WISE, one of it's mission goals is the search for brown dwarf stars, though both hope to solve the puzzle of the "brown dwarf desert" by doing deep infrared searches for the underlying brown dwarf population,
"will be able to see 450-K Brown Dwarfs out to a distance of 75 light-years (ly), 300-K Brown Dwarfs out to 20 ly, and 150-K Brown Dwarfs out to 10 ly." WISE mission website.
Another current research question concerns the process by which Brown Dwarfs are formed and the validity of classifying them as a star,
"A brown dwarf is less massive than a star, so there is less gravity available to pull it together. As a result, astronomers debated whether a brown dwarf could form the same way as a star."
concluding that,
"They share the same formation mechanism. Whether an object ends up as a brown dwarf or star apparently depends only on the amount of available material." Brown Dwarfs Form Like Stars, Says Research
Much of the discussion regarding the star status of Brown Dwarfs centers around their evolution - the current "gray areas" that ongoing scientific research is looking to fill. The handful of dicovered Brown Dwarfs coupled with recent survey results have only increased the questions regarding their populations within the universe and while newly accquired data images show promise regarding the process of their formation, Brown Dwarfs are continuingly showing themselves to be as elusive and troublesome as they were in the years prior to their discovery.
–∫∫∫– Further Study & Reading –∫∫∫–




TWA 5A. (Credit: NASA/CXC/Chuo U./Y. Tsuboi et al.)
◊◊ Stellar Stillbirths: Brown Dwarfs Revealed As Third Class Of Celestial Bodies After Stars And Planets Bonn, Universitaet (2008, August 22). Stellar Stillbirths: Brown Dwarfs Revealed As Third Class Of Celestial Bodies After Stars And Planets.



(Credit: NASA, ESA, and M. Stumpf - Max-Planck-Institute for Astronomy)
◊◊ Brown Dwarfs Don't Hang Out With Stars Space Telescope Science Institute (STScI) (2009, January 9). Brown Dwarfs Don't Hang Out With Stars. ScienceDaily. Retrieved January 24, 2009



A Brown Dwarf Joins the Jet Set (Credit: European Southern Observatory)
◊◊ VLT Finds Smallest Galactic Object with Jets (ESO 24/07 - Science Release)
◊◊ Discovery of a Bipolar Outflow from 2MASSW J1207334-393254, a 24 MJup Brown Dwarf From the Astrophysical Journal (E. T. Whelan et al 2007 ApJ 659 L45-L48)



Click to Enlarge Image (Credit: SIMBAD & ALADIN websites. Enhancements: K. Pinkela)
◊◊ A resolved outflow of matter from a brown dwarf From the Nature publication, Volume 435, Issue 7042, pp. 652-654 (2005, Authors - Whelan, Emma T.; Ray, Thomas P.; Bacciotti, Francesca; Natta, Antonella; Testi, Leonardo; Randich, Sofia).

---
Discovery of...
undisputed success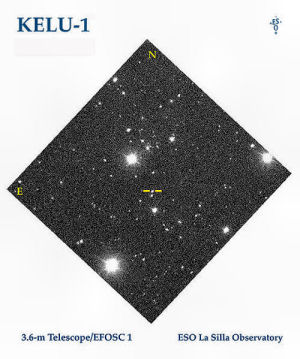 Above is an image of KELU-1 from the ESO website. This photo shows a small patch of space area around the newly discovered Brown Dwarf, one of the first Brown Dwarfs discovered and verified as such, in the southern constellation of Hydra (The Water-Snake) and is indicated with tick marks. Credit source: ESO Website. [ fn 1 ]
It is interesting to note that with the confirmed discovery of Brown Dwarfs, new spectral classification letters were needed:
| | | |
| --- | --- | --- |
| Star Name | S-type | ICRS location Ra & Dec |
| Kelu-1 Brown Dwarf (M<0.08solMass) | L2 (D) | 13 05 40.196 -25 41 05.99 |
Where S-type indicates the star's spectral classification, Ldwarf or Lithium dwarf in this case (ref. Simbad).
[ fn. 2 ]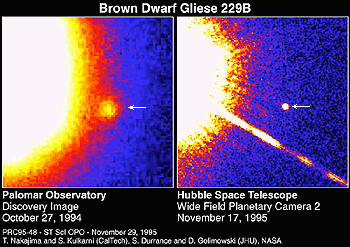 The search for Brown Dwarfs had its first undisputed success with the discovery of Gliese 229B above. This brown dwarf (small arrow) orbits the star Gliese 229, which is located in the constellation Lepus about 19 light years from Earth. This brown dwarf is about 20 to 50 times the mass of Jupiter. Credit and Source: NASA See also Wikipedia With the search for Brown Dwarfs fast becoming routine another addition to the spectral classification was the order of the day. It is again interesting to note this particular star's spectral classification (ref. Simbad):
| | | |
| --- | --- | --- |
| Star Name | S-type | ICRS location Ra & Dec |
| GJ 229 B Brown Dwarf (M<0.08solMass) | T7p (D) | 06 10 35.11 -21 51 17.6 |
S-type identifies this star as a Tdwarf or Methane dwarf.
[ fn. 3 ]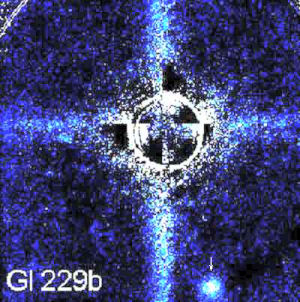 Here's another image of the brown dwarf Gliese 229B from the APOD website. In order to "see" the small brown dwarf over the illumination of the larger star (Gliese 229) special filtering teqniques had to be employed.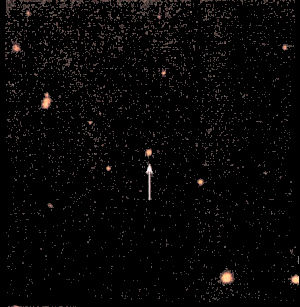 Teide 1 (arrow) was the first brown dwarf to be verified in 1995 and is located in the Pleiades open star cluster approximately 400 light years from Earth. It is a relatively young brown dwarf (about 100 million years old) with a mass as great as 55 Jupiters and an atmospheric temperature approaching that of a red dwarf. One of the reasons that Brown Dwarfs had been so elusive is due to the fact that even at their brightest they require extra special planning strategies and equipment to find. This particular brown dwarf was discovered in a search of distant star clusters using a charge-coupled device (CCD).
| | | |
| --- | --- | --- |
| Star Name | S-type | ICRS location Ra & Dec |
| Teide 1 | M8 | 3 47 18.0 +24 22 31 |
Source Reference:
Wikipedia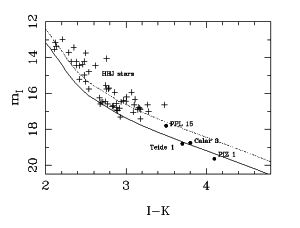 Spectral Graph of the Pleiades Star Cluster where Brown Dwarfs were discovered after two previous unsuccessful attempts. It was not until the third survey or extended survey ( Stauffer et al. 1994 ) of this region that Brown Dwarfs were found. The graph above plots the spectra of dectected stars PPL 15, Teide 1 and Calar 3. Source Credit: Leicester University Astronomy Group Brown Dwarfs: Brown Dwarfs in the Pleiades. Shown in the plot below is the location of PPL 15 - small red arrow and green box:
| | | |
| --- | --- | --- |
| Star Name | S-type | ICRS location Ra & Dec |
| Cl* Melotte 22 IPMBD 23 Brown Dwarf PPl 15 (M<0.08solMass) | M6.5 (D) | 03 48 04.8 +23 39 32 |
Credit: Aladin Desktop Applet-C.D.S. - SIMBAD4 rel 1.101 - 2008.11.02CET23:01:43
---
The Hunt Continues
and at the forefront...
...of more recent investigations into Brown Dwarfs is "NASA's flagship mission for X-ray astronomy", the obiting Chandra X-ray Observatory.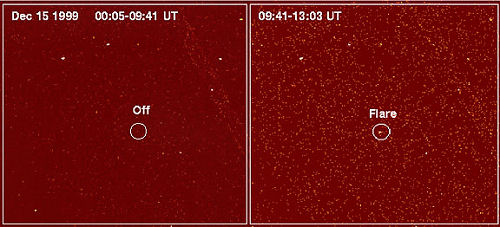 X-ray image of LP 944-20 before flare and during flare. This is the first flare at any wavelength detected from a brown dwarf. The energy emitted in the flare was comparable to a small solar flare, and was a billion times greater than observed X-ray flares from Jupiter. Credit Source: Chandra Website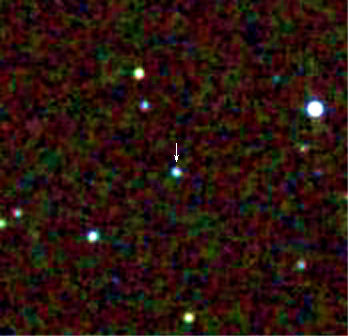 Another survey that has located brown dwarf stars is the Two Micron All Sky Survey (2MASS). Above is a false-color image showing a methane brown dwarf (arrow), also called a "T dwarf". This type of image is generated by mapping the three near-infrared wavelengths, at which 2MASS observes, into blue, green, and red colors.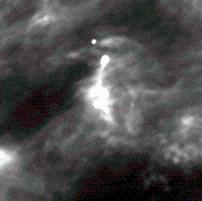 Above is a 5 degree IRAS 100 micron image centered on Cha H Alpha 1, the first X-ray-emitting brown dwarf found in the Chamaeleon I dark cloud and determined to be an X-ray source similar to convective late-type stars. Image Source: Spitzer-Caltech
| | | |
| --- | --- | --- |
| Star Name | S-type | ICRS location Ra & Dec |
| RX J1107.2-7735 Brown Dwarf (M<0.08solMass) | M7.7 (D) | 11 07 16.709 -77 35 53.47 |
Source Reference: C.D.S. - SIMBAD4 rel 1.101 - 2008.11.03CET03:39:54
---
Descriptions & Landscapes Unseen - Conclusion
artists create a univese of science imagery
On the internet thrives a plethora of amateur and professional astronomical web sites containing pages of theorectical discussions, theories, images, concepts and educational material from both the home user and the centers of scientific research. But perhaps the most intersting is the growing branch of grphical art or graphic based composite images of our stellar universe. Most of these images are based on solid scientific concepts, ideas or theoretical models. Many of the artists themselves are accredited science majors in one field or another and use their education and knowledge as the basis for what they create. One is able to view their work amongst most of today's leading scientific pages found across all major science based publications and web sites around the world: NASA/JPL, APOD, ESO, Harvard, Cornell, ESA, Astronomy | Sky &amp Telscopes Magazines and this web site.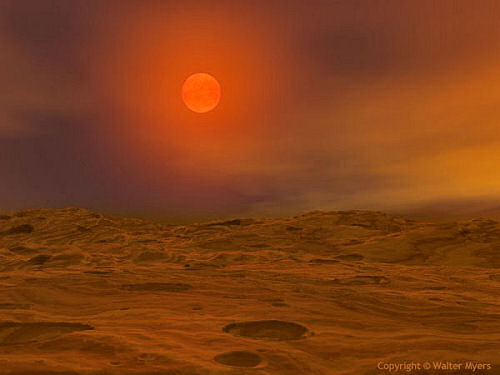 It is that desire to get just a little closer that nudges us further and further out into our universe and when we have reach the limits of our ability to "see", images can help visualize the stellar landscape itself as Walter Myers, artist and creator of the above image writes,
"This is how Teide 1 might appear from the surface of a hypothetical, mars-like planet"
His works are "possibilities of the physical world, especially landscapes: terrestrial and those beyond the Earth" and that is certainly true of this image. For more information on this and other images by this artist please visit his site by Clicking Here Image Copyright © - used with the kind permission of Walter Myers.
Finally, creating composite images can help us gain a perspective as to the scale of our universe and the size of things we discover there: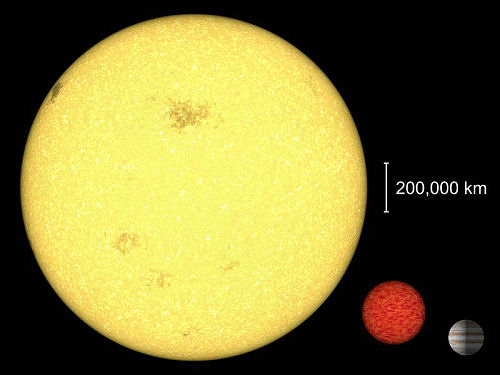 In the image above Cha 110913-773444 (middle) compared to the Sun (left) and Jupiter (right). This brown dwarf (Cha 10913-773444) is located 500 light years away in the constellation Chamaeleon and may be in the process of forming a mini solar system. From Wikipedia:
"Cha 110913-773444 (sometimes abbreviated Cha 110913) is an astronomical object surrounded by what appears to be a protoplanetary disk. There is no consensus yet among astronomers whether to classify the object as a Sub-brown dwarf (with planets) or a rogue planet (with moons). It is even smaller than OTS 44 which had been the smallest known brown dwarf prior to the discovery of Cha 110913-773444."
Source Article Also see - Planet-Sized Brown Dwarf May Yield Smallest Known Solar System
| | | |
| --- | --- | --- |
| Star Name | S-type | ICRS location Ra & Dec |
| Cha 110913-773444 | L-dwarf | 11 09 13.63 -77 34 44.6 |
Source Reference:
Wikipedia
In conclusion, one must wonder, when looking at the relative size of stellar objects, just who the "dwarf" really is. Well, in the classification of things, size sometimes isn't the necessary criteria to the life within our universe, just a part of the evolutionary process that brings it to life. With additional survey planning in the works, scientific exploration within the field of Brown Dwarfs should prove very interesting over the next 5-10 years. Especially now, as it seems that this area is very closely associated with extrasolar planet exploration and research.
---
Additional Information & Resources
Brown Dwarfs
Graphics: Brown Dwarf Beams Brown Dwarf page from the National Radio Astronomy Observatory
Brown Dwarf Detectives Article at the NASA website regarding UCLA astronomy professor Ian S. McLean and colleagues: using the Keck II Telescope at the W.M. Keck Observatory in Hawaii to hunt Brown Dwarfs.
A short article and links
This article is a historical reference to Brown Dwarfs during the formative years prior to and after their discovery, 1995-2004
Brown dwarf
A short one page article based on Wikipedia information on Brown Dwarfs. This page gives a very nice and concise overview of these objects and is arranged by "History", "Theory" and "In Practice" along with relevant sub-sections.
Wikipedia
Here is a partial listing of discovered Brown Dwarf Stars
Cosmic Missing Link
By San Francisco State Astronomy Professor Lynda Williams An article Published in the "Golden Gator" (San Francisco State University) regarding the search and discovery of Brown Dwarf PPL 15.
THE ASTRONOMICAL JOURNAL, 118:2460-2465, 1999 November © 1999. The American Astronomical Society. All rights reserved. Printed in U.S.A. PPl 15: THE FIRST BROWN DWARF SPECTROSCOPIC BINARY
.pdf File on Brown Dwarfs
Brown Dwarfs and very low-mass stars in the Pleiades cluster: a deep wide-field imaging survey
---
Quick Nav
Where to Go
This Page
Brown Dwarfs

Next Page
White Dwarfs

Back to The
Star Page Main

Back to The
Back to Main Page
---
footnotes
fn.1
Also see the article from THE ASTROPHYSICAL JOURNAL
Kelu-1: A Free-floating Brown Dwarf in the Solar Neighborhood

Return to Paragraph
fn.2
Source Reference Abstract Copyright: American Astronomical Society 2005
"Kelu-1 is a binary L dwarf: first brown dwarf science from laser guide star adaptive optics."

Return to Paragraph
fn.3
Source Reference Abstract Copyright: American Astronomical Society 2006
"Ammonia as a tracer of chemical equilibrium in the T7.5 dwarf Gliese 570D."

See also M dwarfs, L dwarfs and T dwarfs
Classification scheme at the Space Telescope Science Institute
Return to Paragraph