Thank You
---
Recognition
As this page represents over 12 years of internet research in astronomy and general science, I wish to express some very heartfelt thanks to all the individuals, institutions and site creators who have contributed freely or by permission to the contents herein, without which this site would not be possible. To all you good folks,

THANK YOU VERY MUCH!!
Image Archives
---
This Page
Please be sure you check any copyrights or read any licensing agreement before you use any image from these good people. Many of the images I use on this website are done so by permission. It has been my experience that almost everyone I have ever asked responded cheefully and quickly...at least no has bit my head off yet! Remember —
Asking is an Absolutely Risk-Free-No-Obligation Courtesy.
Art, Sketching & Photograhpy
---
POSTED!
Whether you sketch it, snap it, digitally click it or have a flair for the artistic side, here's a listing of some very excellent sites to both please the eye and help the beginning, intermediate or advance pupil in science based photography to computer designed art.
Interactive Simulations & Movies
---
POSTED!!
Binary Stars - Gravitional Attraction - Kepler's Three Laws - The Doppler Effect and more... one of the nicer points of on line education is the ability to visualize what is being taught. With that in mind this link category has many fine astronomy & science lab simulations and movies. Note: some of the movies can be quite large and may take a few minutes to appear in your player.
Hands on Education
---
Meaning to Do
More confortable learning on your own? Wish to see if astronomy or physics in general is right for you? No problem, as there is a plethora of sites, from private individuals to universities who offer, for absolutely FREE, complete course in various astronomical pursuits. The labs and instruction vary in degree but there is something here for everyone.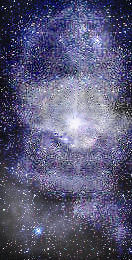 Artistic Rendering of a Reflection Nebula -by K.R.Pinkela
Welcome to AUIT's Image Gallery Links
This page was created in March of 2009. Revised the 26th day of March, 2009
New!
Each month I'll be featuring four outstanding astronomy related websites, chosen from each of the categories on your left, from all over the world. The object is to both inform and promote sites that offer the visitor an opportunity for education, advancement or solid advice for use within their related astronomical field -- Artistic Renderings, Composite Imagery, Astrophotography (CCD), How to's, Locating Stellar Objects, Sketching your Observations, Spectral Lines & Observations.
March - 2009 Featured Site of the Month - Astrophotography
Axel Mellinger's All-Sky Milky Way Panorama Website



Website: All-Sky Panorama
Category: Astrophotography
Publications: The New Atlas of the Stars by Axel Mellinger, Susanne M. Hoffmann. Publisher - Firefly Books Ltd

Current: Assistant Professor of Physics at the Central Michigan University
Educational/Instructional Offerings: Article, Digital Processing Steps. Additional links to digital processing files

Image: Milky Way Panoramic view by Axel Mellinger ©.
This image is part of NASA's Multiwavelength Milky Way poster and the only contribution from an amateur astronomer. I wish to acknowledge and express my gratitude to Axel Mellinger for granting permission to use this image.
The below links are to private, educational and science institution sites that offer all kinds of images for viewing, research and download. The majority allow the image to be use in a "non-commercial" form ( i.e., your science, educational or personal website ) or in your scientific research or school/college essay. Most are " public domain" or "free usage", especially those that are funded by governmental grants ( NASA, NOAO, NSF etc. ) and others may have a copyright that requires further investigation into the terms of their use; APOD ( Astronomy Picture of the Day website ) uses private contributions as well as those great Hubble shots. One common usage entity is the Creative Commons 3 Attribution share-alike which is seen frequently throughout the Wikipedia websites. The bottom line is if you're not sure, email and investigate as the images represent the hard work of individuals the world over. What that said...
Image Archive Links
CCD - Spectra - Composite - Satellite
---
UK Schmidt - WIYN - ESO - Kopernik - Kitt Peak Observatory

McDonald Observatory - Isaac Newton Group - Capella Observatory









---
APOD - AAO - NCSA - NSSDC/NASA - Maynard Jordan Planetarium

Sea & Sky - Institute for Astronomy Hawaii - Hubble Heritage Gallery










---
CfA - ATNF/CSIRO - NASA Image of the Day - Dr. Axel Mellinger Astrophotography

Russell Croman Astrophotography - Tom Diana Astrophotography - Pedro Ré CCD

Astrophotography - The Photographs of Edward Emerson Barnard









---
SkyView Virtual Observatory - Aladin Sky Atlas - IRAS/NASA/IPAC Infrared Science

Archive - The Electronic Universe Project - Hopkins Ultraviolet Telescope - Chandra X-ray

Observatory W. M. Keck Observatory - Gemini Observatory










---
SuperCOSMOS Sky Surveys - Palomar Observatory - Daniel Verschatse's Antilhue - Red

Orbit Conlin Hill - Stars by Jim Kaler - eSky The Electronic Sky - The Interactive NGC

Catalog










---